Between one and two percent of adults in the UK consult their doctor each year with new onset shoulder pain.
Rotator cuff problems account for as many as 70% of these consultations. The rotator cuff is a group of muscles and tendons that keep the ball of the humerus bone centred in your shoulder socket and enable you to lift and rotate your arm. The rotator cuff may tear as the result of wear and tear, due to certain types of inherited bone structure, or because of an accident or both.
Many people develop symptoms before a full tear develops. These partial or microtears are known as tendinopathy (formerly tendinitis or impingement syndrome). This causes pain over the upper arm, which tends to be worse at night and with movement of the arm away from the body. There may be an overreaction of a natural healing response, resulting in something called subacromial bursitis.
Rotator cuff tears can be linked to certain types of job, such as window cleaning or painting, which involve making repeated arm motions, or some sports like tennis. A scan is really useful for confirmation of the diagnosis and size of tear.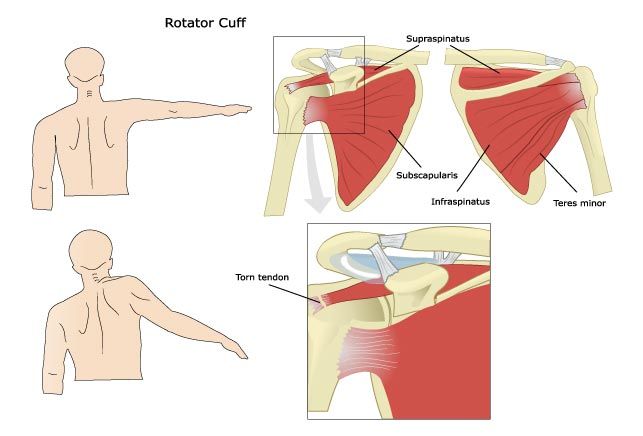 There are a great number of other shoulder conditions besides rotator cuff problems. Amongst health care professionals, it's well known that differentiating between conditions can very tricky as they often mimic each other. In fact, it can sometimes even be hard to tell if the pain you are experiencing is coming from your neck or your shoulder.
Other common shoulder problems
Pain can either occur spontaneously or after an injury. If you have had a major injury and are in severe pain you should seek an x-ray at your local emergency centre to make sure you do not have a fracture or a dislocation. Provided that is not the case then one of the first clues is how old you are. It is very unusual for any of the following conditions to occur in someone under the age of 35:
Biceps tear – this can be linked to rotator cuff problem or may occur in isolation. It is usually due to microtearing of the tendon from the long head of the biceps muscle, which runs from the front of the upper arm into the shoulder joint. In severe cases it can fully tear. This causes pain and a visible cosmetic problem with the arm called a 'pop-eye' sign.
Calcific tendinitis – this occurs when calcium deposits build up in the muscles or tendons and is common in the rotator cuff. It is an intensely painful form of tendinopathy and comes on suddenly without reason. A simple x-ray will make the diagnosis instantly.
Acromioclavicular joint arthritis – also called AC arthritis, this is chronic inflammation of the acromioclavicular joint caused by the wearing away of cartilage that protects the bone ends. Symptoms include pain when you make certain types of movements, such as bringing the affected arm across your chest and lifting it high above your head. People who do a lot of heavy lifting or repetitive overhead motions are most likely to suffer.
Glenohumeral arthritis – this is arthritis of the main ball and socket shoulder joint. Usually because of inherent bone structure, loss of cartilage occurs and causes the humerus and glenoid bones to rub against one another causing friction and pain.
Frozen shoulder – the medical name for this is adhesive capsulitis. It is very unusual to have this if you are older than 60. Severe pain that is difficult to pinpoint is the first clue and it is very often confused with a rotator cuff problem in the early stages. Eventually profound stiffness develops, but the aim is to provide diagnosis and treatment beforehand. It is caused by the lining of the joint becoming scarred and tight, resulting in stiffness akin to wearing a shirt that is much too tight around your shoulders. Diabetics are much more commonly affected. The diagnosis is usually made by examination from your doctor, but an x-ray is mandatory to make sure it is not arthritis.
The shoulder is the most mobile joint in the human body. It is supported by a network of muscles, tendons and ligaments. For patients who are under 35 the usual problem is that the ball of the shoulder is not staying well-centred in the socket. This has very often resulted from an accident or injury, but can also occur spontaneously. In its mildest form this is called microinstability or subluxation, but in extreme circumstances results in full dislocation of the joint:
Labral tear – the labrum is a ring of cartilage that attaches to the rim of the shoulder socket, and helps hold the ball in the socket. If this cartilage becomes torn it can cause the shoulder recurrently fully or partially dislocate with certain movements. You may have an anterior tear, a posterior tear or a SLAP tear (superior labral anterior to posterior tear). A specialised MRI scan will help differentiate.
Multidirectional instability – If you are very flexible then this natural joint laxity can run over into partial or full joint dislocations. Unfortunately, there is no type of scan available to show this, so diagnosis is based on the examination of a specialist.
Whatever your symptoms and however long you've been in pain, the first step towards recovery is receiving an accurate diagnosis. The cause of a shoulder problem can sometimes be really tricky to work out. Combined with rapid access to a full range of scans and diagnostic tests, our extensive research knowledge and clinical experience allows us to make a full 3D biomechanical assessment of your shoulder so we can start planning your path to recovery.
We have access to the best physiotherapists who will work with you to support your recovery. However, where surgery is needed, we will book you in quickly and use the latest, evidence-based techniques to restore functionality and movement.
If you are concerned about your shoulder, contact us to arrange prompt diagnosis and treatment so you can begin living life to the full again.